5 Ways to Make Your Boudoir Session Fun
Chances are, you're looking forward to your boudoir session—though you might be a little nervous. After all, you've scheduled something special just for you! To make your boudoir session the most fun possible, however, follow these great tips.
#1: Get excited!
Now is the time to be your own cheerleader--especially if you're soon going to be doing something you've never done before! Talk to yourself a little bit every day about how much fun you're going to have soon--really pump yourself up! The more you focus on your excitement rather than any lingering nervousness, the more fun you'll have once your boudoir session rolls around. You'll also feel more comfortable and relaxed when it comes time to shoot the actual photos, resulting in natural, confidently sexy shots.
If you're struggling with nerves, try thinking about the things you're most looking forward to during your shoot. Are you excited about trying out a great new outfit or pose? Are you looking forward to the expression on you partner's face when they see your pictures? Get excited about it! The anticipation will make your shoot even more fun.
#2: Take your time when shopping for outfits
Choosing the all-important outfits for your boudoir shoot is a process that absolutely cannot be rushed! It's easy to make that shopping trip just one more item on your To Do list, which can make the entire process a bore.
Instead of viewing this as an unpleasant chore, prioritize making it a fun experience. Get a girlfriend or two involved. Schedule a fancy lunch at a nearby restaurant. Take several days or several outings to visit different stores at your leisure. You're not going to find the perfect outfit when you try to cram in a shopping trip in ten minutes on your lunch break!
Buy things that look good in the store, but commit to trying them on again at home. Then, give yourself advance permission to return any that don't look right in a different setting. If you visit a boutique, see if the proprietor will let you do a viewing party with several girlfriends, maybe even pop some champagne. Let's face it: most women don't do this for themselves nearly enough, and now is your time to really luxuriate and pamper yourself. Who knows? You could create a tradition with your best friends that will last for years.
#3: Start prioritizing self-care weeks in advance
Rather than viewing grooming and prettying up as something to be done in the last few days before your boudoir session, take the opportunity to really show yourself some love. Several weeks in advance of your shoot, start taking long baths, slathering on fragrant lotions, and paying loving attention to your fingernails and follicles. Plan a visit to a spa several days before your photo shoot. If you're planning to have your hair trimmed or colored before your photo shoot, make sure you schedule it a couple of weeks in advance so that you have time to take care of any errors.
Not only will taking care of your pampering and self-care keep you from doing a mad scramble later, it will also likely eliminate last-minute mistakes—self-tanner that turns your skin orange, for example. You'll feel incredibly relaxed by the time your boudoir session rolls around, and your skin and hair will simply glow.
#4: Keep an open mind
Look, we know that a boudoir shoot is not something you do on a daily basis. You're not a supermodel--this isn't part of your job! But precisely because of that, make sure to keep an open and positive outlook during your boudoir session. After all, you don't know what to expect! Trust that the photographer you've chosen will make you look your very best.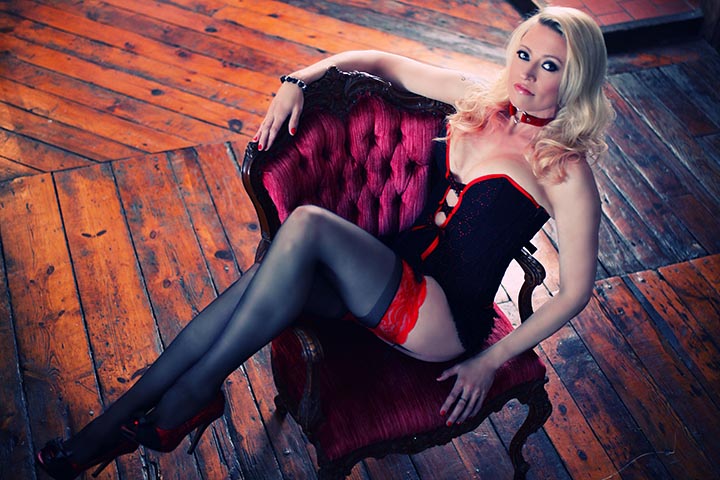 That may mean trying out poses you're not so sure about. Or it might mean trying on an outfit that is a little outside your comfort zone, or that you would never have chosen for yourself.
Your photographer has done this many times before. They know what to expect, and they have a pretty good idea of what will look great on your body type—so put your trust in your photographer and be willing to give it a try!
The more fun you have and the more relaxed you get over the course of the boudoir session, the more likely you are to be willing to do poses that you never imagined before. If the mood strikes and suddenly you feel like doing a topless pose from the back, go for it! Or if you want to take a slightly silly shot and the photographer's down for it, don't be afraid to let your inner goofball fly. (insert link to Blog Post 3 "From Boudoir to Boardroom")
#5: Have Fun with the Results
Nobody takes boudoir photos only to hide them away afterwards, so really commit to having as much fun with the finished product as possible! You can purchase an album of your favorites, print a series of filtered color-tones a la Andy Warhol, or blow up one great pose to hang over the bed or for the man cave. Why not consider making playing cards, coasters, or even a calendar? Don't be afraid to get creative, especially if you're planning a special gift for your spouse or partner! Use your images as a special gift, or save a few special shots to show up later as a special treat. After all, if you've got it, well, then, you'd better flaunt it—and finding creative ways to flaunt your new images is part of the fun of your boudoir shoot.
Your boudoir shoot isn't just any photo shoot. It's an opportunity to really let your inner self fly. By approaching your boudoir session with a sense of anticipation and diving in with a willingness to really do something fun, you'll find that the entire session is more enjoyable—and that you're more likely to fall in love with your incredible results.
Resources:
http://www.glamour.com/gallery/13-diy-at-home-spa-tricks-2008-11#1
https://thegirlwhoknows.com/making-lingerie-shopping-fun-no-matter-size/
Some of my Recent Work: