Pinup is the Ultimate 2019 Game Changer—Here's Why
We all know that the takeaways from Pin-Up are virtually limitless. They're a fun, empowering, and charmingly retro way to manifest your sexy and share it with your special someone. Or an even better way to show yourself some love with your favorite prints and canvases up on the wall!
But pin-up isn't just something you do for pictures, as incredible as you do look in them. Your session should be about the experience and the memories you walk away with after you finish up at the studio.
The moment you walk into the Chicago Pinup Studio you become a gorgeously iconic pinup gal. That means professional makeup, hair styling, and of course, the glamorous pinup photo-shoot! We'll have some fun, share some laughs, and capture some incredible images.
But the magic doesn't just end when the album is finally in your hands; there are lasting signs that you've had your very own pin-up session! And while there are so many reasons why you should take the leap and experience your very own pin-up session, here are 4 reasons that really leave an impression.
Reclaim your Femininity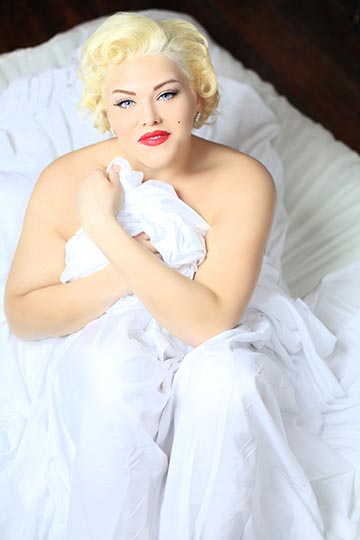 Sometime in the early '80s, the world decided that women needed to dress powerfully in order to be taken seriously, and that "powerful" meant "masculine." And while there is a fun freedom to dressing in whatever style you choose, somewhere along the way, a disdain for traditionally feminine clothing choices crept in.
All too suddenly, a woman was considered powerful and/or sexy in a full suit and tamed tones. Not a bad look to say the least, but it can be fun to get back to a retro-styled femininity.
Today's pinup embraces the curves and sweetness of a woman's body while highlighting the iconic style of a previous era. Pinup gives us an escape to a more and brings it roaring back, reclaiming it as the privilege of pure womanhood. 1950's pin-up fashion embraces the lush, soft aesthetic of that day while showcasing the true power of unapologetic femininity.
We have pinup goddesses walking amongst us right now, and you can absolutely be one of them! Your session can be whatever your retro heart desires! So don't be afraid to embrace your inner pinup gal and give us a call today! So many possibilities await you here at the Chicago Pinup studio, and we can't wait to help you discover your dream pinup session!
Embrace your Body
While a certain body type might have originally dominated pinup, today's pinup movement is wide open to every size, shape, and color under the sun!
Curves, sass, and style are the 3 (kind-of) secret ingredients for an incredible pinup session.
If you've ever told yourself no because you felt insecure or worried about not looking good in a pinup photo shoot, now's the time to change that!
You may have never thought of yourself in that way, but once you get under the lights with your hair in victory curls, a pouty red mouth, and a flirty polka-dot dress, you'll see yourself transform into the ultimate pinup: lush, flirty, playful, and sexily sweet.
Your gorgeous features and fabulous body are going to look absolutely darling no matter what way you decide to style your session! There's almost an infinite number of combinations of aesthetics ranging from pretty to punk (or a combo of those), hairstyles and hair colors, or clothing colors and styles that show off your unique style and flair.
You deserve to experience the pinup session of your dreams, so when you're ready to take the leap, give me a call and let's chat!
Love Your Quirks
Pinup may have an unmistakably retro style, but that doesn't mean you can't put your own unique twist into whatever incredible concept you decide on for your pinup session!
With pinup quickly becoming the hottest trend of 2019, it's becoming even easier to discover your very own "look".
There are so many incredible styles to look through and discover to really make your session unique to you! There's no height, weight, or fashion requirement to be a pin-up gal! And if you need any inspiration, we've absolutely got you covered!
In "5 Affordably Fabulous Places to find Pinup Clothes for Real Bodies and Budgets", there's everything you need to do to find a style that's totally you at a price you'll love.
If you can dream it, you can live it, and anything that makes you stand out is worth celebrating.
Discover your Strength
Pin-up gals are fierce creatures… with no shy wallflowers to be found.
The women that come into Chicago Pinup studio are bold, strong, and ballsy. They're equally able to kill it in the kitchen or jump on a motorcycle and ride with the boys. They are enviably fabulous, and you know it, and they know you know it.
But really, they couldn't care less; they're off doing their own thing and everyone else can just step aside. The only thing on their mind is loving themselves and their fabulously unique features.
It's an utterly modern mindset, and once you see yourself in that role, you're going to want to keep going and never stop. You ARE a pin-up gal! You are fabulously fierce, and the question isn't who is going to let you, but who's going to stop you?

The world needs more gorgeous rule breakers who aren't afraid to forget the status quo for a while: women who can look at themselves in the mirror and embrace their one of a kind qualities.
Taking the leap and deciding to finally book your own pinup session is a milestone all on its own. Every woman deserves to experience the incredible empowerment of pinup at least once in their lives… now's your chance! Give me a call today and let's make your pinup session something you'll never forget!
Be powerful. Be brave. Be a pinup gal!